South America's Resort for the Rich Seeks Year-Round Vibe
Uruguay's Punta del Este has long been a tourist magnet. Now investors and policymakers are eyeing a post-pandemic transformation..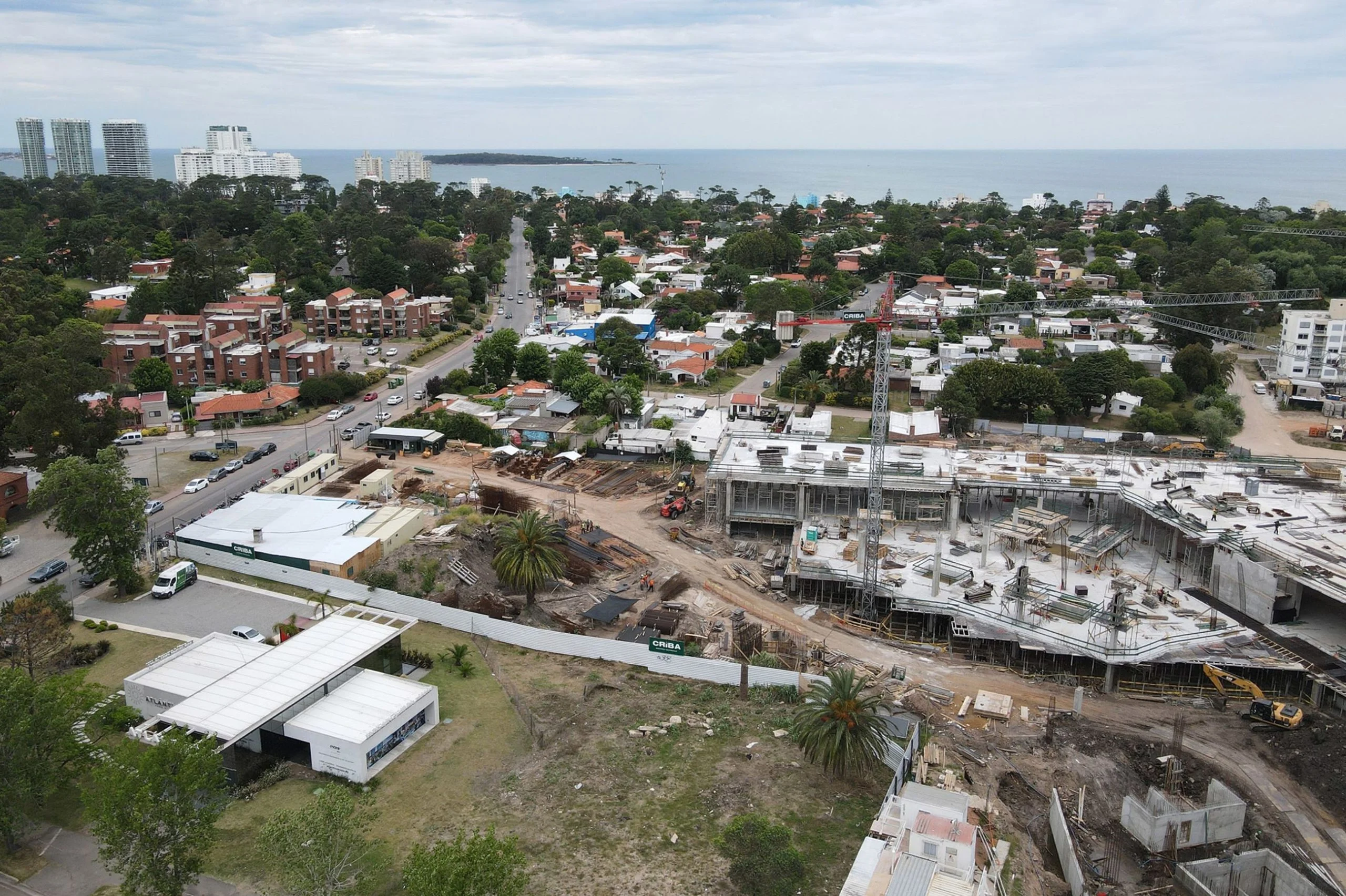 The $130 million Atlántico project broke ground last year.Photographer: Ana Ferreira/Bloomberg
Uruguay's Punta del Este, sometimes called the Monaco of South America, became a pandemic refuge for thousands of wealthy summer-home owners. Now investors are pouring millions into offices and education services in a bet that immigration will accelerate the popular beach town's shift to year-round city.
Punta del Este and the neighboring provincial capital Maldonado together are home to about 170,000 people, with approximately 15,000 new residents settling in the area since the pandemic, provincial governor Enrique Antía said in an interview.
"We've experienced continuous growth through immigration for 20 years, which accelerated in the two years since the pandemic," he said, citing double-digit gains in school enrollment. "That shows there is a bigger population of young people."
Uruguay, a country of 3.5 million people about the size of Missouri, has long been a magnet for tourists from neighboring Argentina. With its long sandy beaches and a sheltered bay, Punta del Este became a playground for South America's elite during the second half of the 20th century. While billionaire tourists like Meta's Mark Zuckerberg make headlines for visiting, Punta del Este's prosperity is tied to upper-middle-class Argentines and Uruguayans who own second homes in the area.
Famous for its sculpture of a giant hand emerging from the sand, the Atlantic Coast resort has plenty of luxury apartments — including Trump Tower Punta del Este — but little modern office space.
Carlos Lecueder, whose family-owned firm Estudio Luis E. Lecueder manages nine shopping centers and six office towers, is leading a group of investors building a $42 million World Trade Center-branded office tower on the city's historic peninsula district. The 25-story building will be able to house at least 1,200 people when it opens by early 2025.
"It lacks places to work to become a real city," Lecueder said in an interview from his office in the capital, Montevideo.
After his first attempt to launch the tower in 2017 fizzled due to a lack of buyers, Lecueder obtained free trade zone status from the government, which exempts renters providing services to offshore clients from paying most domestic taxes. At the same time, the pandemic triggered an influx of well-heeled Argentines and Uruguayans seeking the open spaces of a small city that also has many of the services such as hospitals and private schools found in major urban areas like Montevideo and Buenos Aires.
"I call it the triumph of the suburbs," Lecueder said. "That plays in favor of the development of Punta del Este as a place to combine everyday living and work."
Punta del Este's potential to attract permanent residents led developer Altius Group to plan a mixed-use real estate project called Atlántico on five acres at the northwest edge of the city where it merges with Maldonado. Argentine immigration reinforces that trend, Atlántico chief executive officer Francisco Jorge said.
"The Argentine that goes to Punta del Este to retire or semi-retire ends up becoming a businessman or engaging in some sort of activity that creates economic movement and jobs," Jorge said.
After delays caused by a change of leadership and the pandemic, Altius broke ground on the $130 million project last year. Jorge expects to complete the $86 million first phase comprising a shopping center, 18-floor apartment block and 14-story office tower by the end of 2024.
While the city has a demographic tailwind in its favor, Jorge said there are still shortcomings in educational services, especially universities, and health care.
"There are many new residents that demand first-rate health care. Those people end up going to Argentina or even the US for more delicate operations," he said.
University Ambitions
Higher education could hold the key to helping Punta del Este diversify its economy just as universities are a key driver of economic development in small and medium-sized US cities. Punta del Este and Maldonado already have a cluster of at least four universities and several technical institutes.
Uruguayans who would otherwise have studied in the capital Montevideo are enrolling in the local universities thanks to the availability of outdoor activities like surfing, said Andrea Malaquin, dean of the Catholic University of Uruguay's Punta del Este campus.
The Catholic University is spending $3 million to expand the campus to handle about 200 enrollments a year. Malaquin expects the student body to rise from just over 100 this year to more than 700 by 2025; the university also added four new degrees, including software development and psychology, this year
Even so, Punta del Este is still a long way from earning the moniker of "university town." Student-friendly public transportation and cycling infrastructure leaves much to be desired and year-round jobs are scarce, Malaquin said.
"Punta del Este doesn't have a very solid business ecosystem. It isn't able to offer jobs to the number of people who maybe dream about living in a place like this. There are few companies," she said.
The government and business chambers have sought to create more steady jobs for an economy that's still heavily dependent on tourists, with almost 600,000 people visiting Punta del Este in 2019.
US-listed IT giant Globant employs more than 50 people at the office it opened last year near the yacht harbor. The provincial government plans to launch a tender this year to build and operate a free trade zone for services and logistics on about 52 acres near the local airport and convention center, Antía, the provincial governor, said.
"We perceive there is an interest by people who have moved to the province and opened companies, especially people linked to tech" to work in a free trade zone, he said. "It will also be an attraction so other companies come here."
---
Fuente:
https://www.bloomberg.com/news/features/2022-11-22/uruguay-s-punta-del-este-seeks-a-year-round-vibe?sref=GC6L32HS